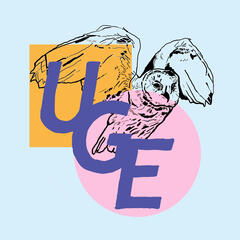 the union for gender empowerment
The UGE is a trans-positive and anti-racist feminist organization that operates an alternative library and co-op and advocates for social justice. The UGE is a SSMU Service at McGill University, but our services are available to all who need them.
about the collective
The Union for Gender Empowerment is a trans-positive and anti-racist, feminist service of the Students' Society of McGill University (SSMU). Everyone is welcome to use our services!

Our mandate is anti-racist, anti-colonial, anti-capitalist, anti-ableist, queer-positive, trans-positive, and focuses on harm reduction. We support the Solidarity City Project and agree to never ask for information regarding immigration status.

We are able to offer our services and open our space to all thanks to the work of our volunteer staffers who hold office hours which are updated weekly on our Facebook during the academic year. Staffers can also join our Collective, which is the decision-making body of the UGE and operates on the basis of horizontal-consensus.

The Union for Gender Empowerment originally began as the McGill Women's Union in 1912 in order to represent female students who were excluded from membership at the SSMU. 90 years later in 2002, trans people were allowed to join the Women's Union in order to empower all of those oppressed by the gender binary. As a result, the Women's Union became the Union for Gender Empowerment in 2004 and became open to all genders. In 2017, the UGE adopted the mandates we follow today in order to be more inclusive than we traditionally had been throughout our history.

Today, we are always striving to better recognize and act on our responsibilities as an organization not only for gender advocacy but for liberation for all.
our services
CO-OP
Our co-op stocks pay-what-you-can ecologically responsible menstrual products, DIY sex toys, safer sex supplies, and gender empowerment items. In order to respect essential social distancing measures, we are operating our co-op 100% remotely with both delivery and pick-up available.

The co-op order form can be found here!

LIBRARY
We operate an alternative library with novels, graphic novels, academic texts, zines, and newspaper archives in conjunction with Queer McGill. Together, we have the largest queer anglophone library in Quebec. We are not currently able to allow borrowing from our library, but we hope to be able to soon.

Browse our selection here!

DISCRETIONARY FUNDING
We are conscientious that there is often a lack of funding for groups seeking to gather funding for social justice projects. Discretionary Fund Applications are subject to a maximum of $300, and each organization may only apply once per financial year, with priority to organizations that have not received funding before.

Apply for discretionary funding here!

SAFE SPACE
Our office and lounge space is located in the recently renovated University Centre. It is a wheelchair-accessible safe(r) space for people of all genders, and is equipped with a microwave, dishes, a kettle, and lots of tea. The University Centre will have limited access for the upcoming academic year, but we are excited to see you all again when we can!